The bathroom is a room that is used multiple times each day, and for any room getting used that often, you want it to be not only functional, but you want to actually enjoy it. Does your Denver bathroom make you smile? Does it look beautiful to you? If not, you should call Summit Custom Builders to help make your bathroom a much more inviting room in your house with bathroom remodeling.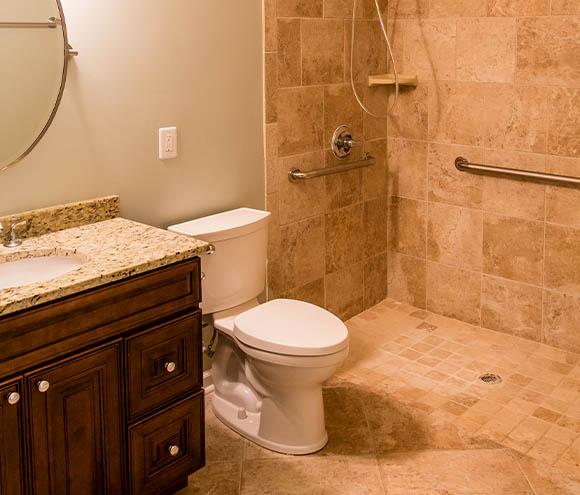 Make the Master A True Master
Often the Arvada homeowners use a bathroom that is also used by people other than the homeowners themselves. It's not that they don't have a second bathroom, but it's the nicest one they have, so they encourage people to use that one. Why not make that bathroom the master bathroom that is really geared for the homeowners? If you have the space to give, you can make the bathroom larger. Maybe you'll use this space for more storage, or you might want a separate tub and shower option, or you might be longing for double sinks. Whatever you have wanted for your Wheat Ridge home, now is the time to make it happen.
But what about that other bathroom in your Golden house? Why not give that a good remodel as well? It doesn't take much to upgrade a bathroom and make it a nice space to use. This way you can be proud to have a nice secondary bathroom for guests and visitors to use, and you'll have your own bathroom where you can block out the rest of the world if you want to.
Be Sure to Think of The User
No matter who will be using the Morrison bathroom that you are remodeling, it is always best to think about the primary user. What parts will they be using in the bathroom? How can you make things functional while having some style? What would make the bathroom more useable? Thinking through these questions will allow you to make some decisions regarding what you want in the bathroom.
If your Lakewood bathroom will be used primarily by visitors who aren't staying longer than a few hours, you will likely only need to have a toilet and a sink, plus a little storage for towels and other things. This is different from a guest bathroom that may need to be utilized by people staying several days (at least). Now you will need a shower/tub area in the bathroom for hygiene, plus additional storage for more items that are used, such as towels, mats, and more. The more you think about the user, the better the outcome will be with Summit Custom Builders.