Kitchen Renovations and Kitchen Remodeling in Lakewood, CO
What room in your house tends to be the gathering spot for your family and friends? If you answered the kitchen, you would be correct! Along with the bathroom, the kitchen is one of the most used rooms in any home. It's no surprise, then, those kitchen renovations are high on the list for most homeowners. From kitchen cabinets to kitchen fixtures and kitchen countertops, there is plenty to look at changing up, and the right contractor to help make these changes to your Lakewood, CO, happen is Summit Custom Builders. Give them a call today to learn how their team will make your home remodeling project go smoothly.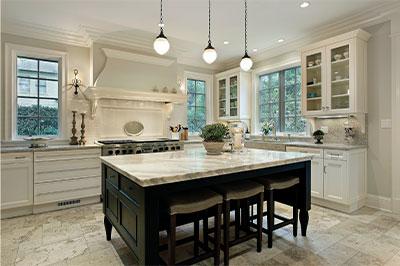 Custom Kitchen Design and Kitchen Remodeling in Lakewood, CO
There is a stark difference between what the home improvement shows tell you and what your friends tell you about their own kitchen remodeling. The truth is kitchen remodeling can be a large project. Where kitchen renovation is changing the esthetics of cabinets, tiling, and flooring, kitchen remodeling is changing the layout and location of various properties. Kitchen remodeling can include moving sinks, adding windows, removing walls, and more. Now you are talking about structural changes, plumbing, electrical and more.
Kitchen Cabinets, Countertops, and Fixtures for Kitchen Remodeling in Lakewood, CO
The team at Summit Custom Builders can help provide custom kitchen design when you are looking at a full kitchen remodeling project. They will work with you to be sure that the flow of your redesigned kitchen is clean, all of your kitchen fixtures are how you want them, and you are satisfied with the end result. They are also experts in kitchen renovations, helping to update your kitchen countertops and kitchen cabinets for a more modern look and feel. Whatever you are looking for from your kitchen, Summit Custom Builders is ready to dive into your project and bring your vision to life.
Home Remodeling, Bathroom Remodeling, and Kitchen Renovations in Lakewood, Colorado
Nearly every homeowner eventually thinks about different home remodeling projects that could make their Lakewood, Colorado, home more attractive and functional. From custom kitchen design to updated kitchen cabinets and more, Summit Custom Builders can also manage your bathroom remodeling project as well as other home remodeling projects that you have. Call them today to get your project started.
About Lakewood, CO
The urban and suburban development of the community known as Lakewood was started in 1889 by Charles Welch and W.A.H. Loveland, who platted a 13-block area along Colfax Avenue west of Denver in eastern Jefferson County. Lakewood never had a traditional downtown area. West Colfax Avenue served the metropolitan area as U.S. Route 40 and the main route joining Denver with the Rocky Mountains. As such, Colfax from Harlan west to Kipling and beyond had mostly commercial establishments. In 2011, Lakewood was named an All-America City for the first time.